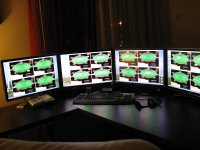 how many tables do you play simultaneously?
I see there are players who open up to 40 tables at the same time,I can not understand what the decision parameter is when we have so many tables playing at the same time
we can even put a predetermined action, but the question is:
will we keep our attention on every table without losing focus on a move?
I managed to open at most 8 tables, my mistake was to open them in turbo format, I believe that when we open more than 4 tables, the format should be slow, so you do not lose focus of the game.
For you, what is the highest volume of tables open at the same time?
When you play multi-table, can you make a more profit, or only make volume without much financial return?
Last edited: