Joined

Apr 6, 2021
Total posts

27
Chips
Hey guys. My name is Valentin Kuzub, and I am the creator of ICMIZER. I am here to answer any questions you might have about ICMIZER - you can post them in this thread.
I've been working on
ICMIZER
for the past 10 years and am pleased to announce that we're teaming up with CardsChat to bring you the following amazing deal: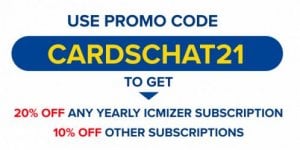 ICMIZER
is a popular and easy-to-use preflop calculator that helps you improve your push/fold strategy in SNG and MTT tournaments. ICMIZER has many advanced features and supports pretty much any tournament including MTT, Knockout & Progressive Knockout tournaments.
ICMIZER uses ICM and FGS models to allow you to quickly calculate the optimal preflop push/fold charts in any tournament situation.
One of the most amazing features of ICMIZER 3 is its automatic hand analysis - you can upload your hand history file and ICMIZER will automatically filter all
hands
suitable for preflop push/fold analysis and instantly show where you've made a mistake.
ICMIZER is a part of ICMIZER Suite and comes with the Basic subscription. With PRO subscription you also get SNG Coach and Replayer.
You can learn more about ICMIZER features here:
ICMIZER Features
SNG Coach
is the unique preflop trainer that allows you to practice push fold strategy in different preflop situations. SNG Coach tracks your training progress and has a world leaderboard where you can compete with other SNG Coach users.
SNG Coach offers a wide range of tournaments from all popular networks for you to train at and we also keep the list up to date so all new interesting tournaments are available for our users asap. You can also practice the bubble stage of MTT and the pre-final table where there is a lot of ICM pressure and decisions can be very counter-intuitive.
For example, you can practice popular progressive knockout tournaments or perform Chip EV training in SNG Coach for the earlier stages of MTTs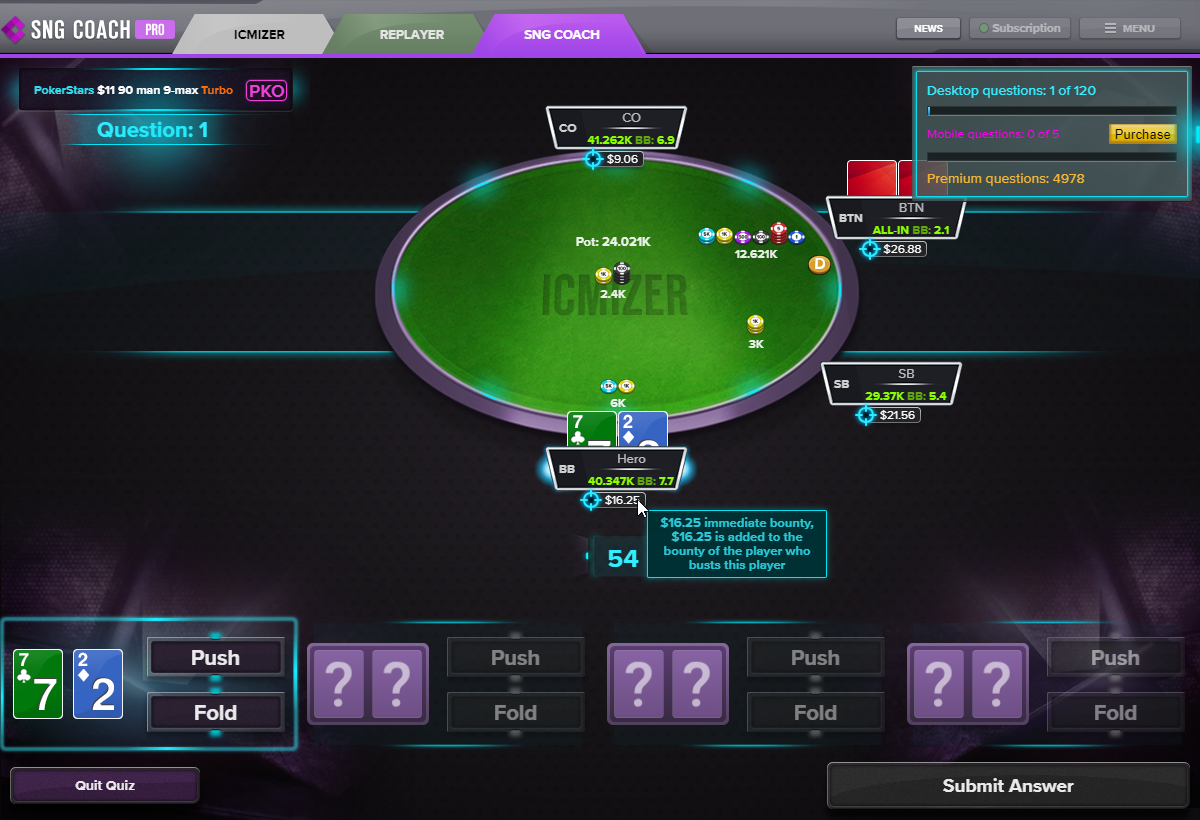 You can learn more about SNG Coach here:
SNG Coach Features
We've put a lot of effort to make sure ICMIZER is as easy to use as possible. Currently, ICMIZER offers a built-in tutorial where you can see how the interface works and how to use it effectively. If you run into any questions, I and my teammates would be glad to help you with anything regarding ICMIZER in this thread.
ICMIZER offers a
Free
version that allows you to analyze
1 hand per day
and a fully-featured
free 7-day trial
without any limitations. If you want to improve your tournament skills you can create a free ICMIZER account and give it a try here:
https://www.icmpoker.com/
Last edited by a moderator: