Tony G Wins $4.3 Million on CoinPoker, Raises $10K to Help Ukrainians
CoinPoker continues to push the envelope, this time with the help of more high-stakes action and a $10,000 donation to those affected by the war in Ukraine.
The crypto poker site made waves in February when Tony G won a pot worth more than $7 million. After a brief hiatus, CoinPoker's big-money Pot-Limit Omaha game was back again this week.
Five of the game's six players had seven-figure stacks and, once again, Tony G was in the mix. This time, he hit the nut flush to bust two players and rake in a pot worth $4.3 million.
Tony G takes down another big one
The seven-figure pot (see tweet below) stands as one of the biggest ever in online poker. With the board showing 7♦ T♦ 5♣, G called a bet from number29 with an ace-high flush draw. High-stakes pro Laszlo Bujtas, aka omaha4rollz, raised enough to put the unknown player, number29, all-in.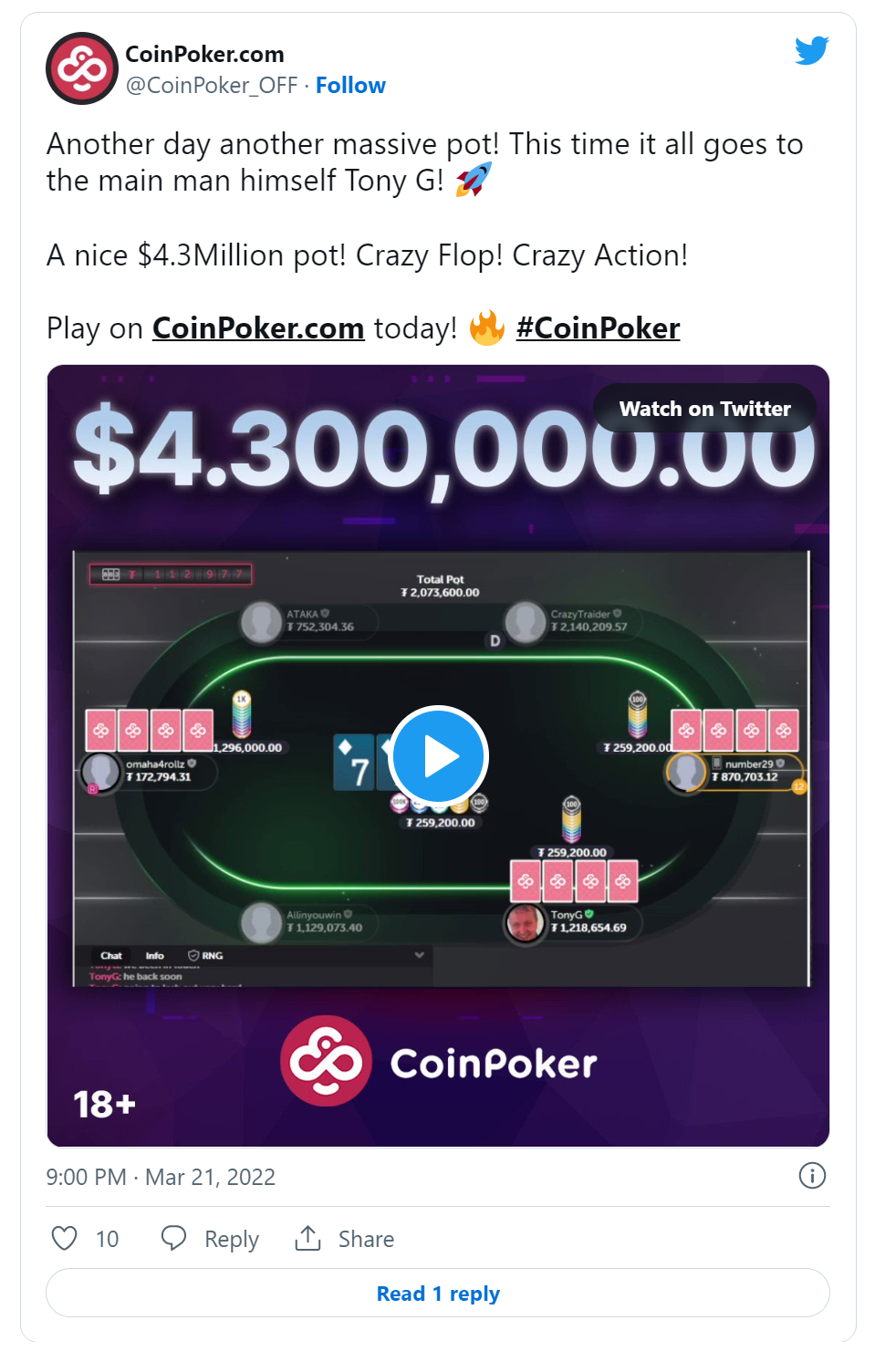 Number29 called, prompting G to put Bujtas all-in. The Hungarian called and, with that, the cards were revealed. Bujtas had a set of sevens, number29 had a set of tens, and G had, among other things, a flush draw.
The J♦ on the turn put G in front. Bujtas was drawing dead at this point because G had the remaining seven. Only a 10 or paired board could help number29. That help never arrived as the 4♥ completed the board to give G a winning flush and a pot worth $4.3 million.
CoinPoker parlays attention into fundraiser for Ukraine
CoinPoker launched in 2017 and quickly became one of the go-to sites for crypto gaming fans. However, for all the innovations it's made using blockchain technology, it's the recent string of high-stakes games that have garnered attention.
With the poker community at large now taking notice, the owners of CoinPoker are using the attention to raise money for the people of Ukraine.
Tony G is one of the site's owners and, through his charity, the A Guoga Support Fund, he's working to help those affected by Russia's military strikes. Using CoinPoker as a platform, G set up two online charity tournaments.
Money raised through buy-ins was added to direct donations made to a dummy account on CoinPoker. Those efforts raised $8,996. CoinPoker has rounded up the donation to $10,000, all of which will go to the A Guoga Support Fund for Ukraine.