Joined

Mar 2, 2019
Total posts

1,080
Awards

3
Chips
Hello Poker fans,
I am trying to improve my betting at the table and wish to get a better feel for calculating my
odds
.
You are invited to join the discussion, post
hands
with incredible odds, share resources so people like me will get better and ask questions.
Enjoy this informative video:
Pot odds explained
Another great video:
Odds and Outs explained
Here is a nice tool if you do not want to strain your brain:
Pot odds and percentage calculator
A resource I came across -
The Ultimate Poker Guide
CardsChat Odds Calculator
Here is a hand that I played: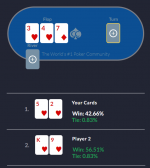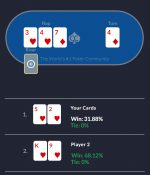 Total pot was $1299 and I got a feeling with my open-ended and flush draw
I had 15 outs with a 54% chance on the turn and a 33% chance on the river!
Using the 4-2 rule I have 60% on the turn and 30% on the river.
Would you call?
Well, I shoved and let out a sigh of relief. As it turned out, I had two discounted outs and was totally dominated!
See the full hand here
Come share your experiences and ask your questions.