Joined

May 8, 2017
Total posts

693
Awards

3
Chips
Game

Hold'em
Game Format

No Limit
Table Format

MTT
Buy-in

150
Currency

$
So I'm doing a review of all the Day 1 and also the Day 2 of this tournament and I'm seeing some interesting
hands
that I will post in the coming days. I would very much like your guys feedback on them.
Level 6 of the blinds:
UTG has only 25 hands played with this stats: VPIP 40, PFR 4, Limp 38, Cold Call (calls the open raise) 33, 3-bet 8 and post flop Agg 0
Also on the GGPoker stats he has a VPIP 51 * I'm seeing this as I review the hand in PokerCraft.
What I gather from this stats is that he is a passive player, but since he raise UTG I really think that he has a strong hand. So pre-flop this is the range that I put him on: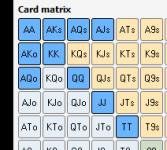 Pre-flop:
Even though I'm in SB I decided to complete his range since post flop I really think that 76s has good playability.
Flop:
Now this board hits me with bottom pair and his range also, but more my range then his...also I don't want to play a big pot so I decided to just check and call a bet from his part.
Turn:
Now that Q hits him more then me and if he had AQ, AK, he got there with this turn so taking that into account I decided to check and if he bets again I will fold and move on.
River:
That is a card that I like and also I don't like
since is good for me but that complete a flush. Now here is where I think I made a mistake, when I decided to bet instead of check/calling just because I did not think that he would raise me there, for the simple fact that he checked back the turn. So in my eyes I bet for value here.
What would you guys/ladies do here?
* I will post the results later
GGPoker,
Hold'em No Limit
- 80/160 (20 ante) - 8 players
UTG: 11,007 (69 bb)
UTG+1: 14,997 (94 bb)
MP: 9,755 (61 bb)
MP+1: 7,332 (46 bb)
CO: 7,148 (45 bb)
BU: 9,010 (56 bb)
SB (Hero): 8,361 (52 bb)
BB: 10,879 (68 bb)
Pre-Flop:
(400) Hero is SB with 7
♥
6
♥
UTG raises to 320
,
5 players fold
,
Hero calls 240
,
1 fold
Flop:
(960) T
♣
J
♠
6
♠
(2 players)
Hero checks
,
UTG bets 480
,
Hero calls 480

Turn:
(1,920) Q
♣
(2 players)
Hero checks
, UTG checks
River:
(1,920) 6
♣
(2 players)
Hero bets 1,421
,
UTG raises to 4,993
,
Hero calls ?