Joined

Jan 30, 2020
Total posts

340
pokerstars
,
Hold'em No Limit
- $0.01/$0.02 - 4 players
Hand delivered by Upswing Poker
UTG: $2.02 (101 bb)
BU: $4.23 (212 bb)
SB: $7.33 (367 bb)
BB (Hero): $3.36 (168 bb)
Pre-Flop:
($0.03) Hero is BB with J
♦
T
♦
1 fold
,
BTN raises to $0.06
,
1 fold
,
Hero 3-bets to $0.20
, BTN calls $0.14
Flop:
($0.41) 9
♦
3
♥
9
♠
(2 players)
Hero bets $0.24
, BTN calls $0.24
Turn:
($0.89) Q
♣
(2 players)
Hero bets $0.50
,
BTN raises to $1.11
,
Hero calls $0.61
River:
($3.11) 8
♥
(2 players)
Hero bets $1.81 (all-in)
, BTN calls $1.81
I give the unknown villain this sort of range for his BTN, 3-bet flatting: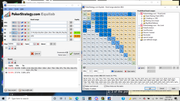 Do you think this is a fair range for BTN calling my SB-3bet?
On the flop I am thinking to bet here because we want to take the pot and have backdoor
equity
and deny villain a turn card to pair his over-card/broadway
hands
and put pressure on his middle/weak PP's. In your experience do you think a generic player is calling the flop with over-card broadway hands ? I decide to bet to also setup a 2nd barrel on the turn for more fold equity.
I decide to bet a bit over half pot. risk/ (risk+reward) 0.24/0.65= 38%
I need villain to fold 38% of his range on the flop for it to be a profitable bet, I don't no how often he folds but I assume if we double barrel the turn on a decent card we may get him to fold a large portion so I decide to bet here. Villain calls
The turn brings Qc giving me an OESD. I decide to C-bet on the Q because I can easily have hands like AA,KK,QQ,AQ, I think with this bet a large portion of villains underpairs should be folding.. basically JJ and lower.. do you think this is a profitable
bluffing
spot or does villains range connect with the Q well?
On the turn I need villain to fold roughly 35% of his range or more to make this
bluff
bet profitable. If we can get villains weak pairs and Ace-highs to fold I think this bet is ok. what are your thoughts?
Villain decides to min raise me on the turn and I believe this to be a value raise 100% of the time , I give his value range something like AQ,KQ,QJ, possibly a slow played QQ and some 9x hands like A9s or T9s. The pot is now $2.50 and its 0.60c to call meaning I'm getting direct 4:1 to call for my OESD, I don't think I can fold here can I? River comes and I want to get paid , I assume villain has a value hand to call and shove. Thoughts?