aliengenius
Cardschat Elite
Joined

Jul 7, 2006
Total posts

4,596
Chips
In Killer
poker online
2, John Vorhaus refers to "the pulse of tournament poker" (p. 156).
He is referring to certain points in the middle of tournament when the average stack size is low(ish) relative to the blinds and antes. For those who like Harrington's terminology, everyone has a fairly low "M". Play will naturally be faster at a time like this, with more open shoves, lots of action, and lots of bust outs.
However, once the chips consolidate into the
hands
of fewer players, the average "M" might then be back to a safe level, and play will slow.
This faster/then slower play based on average stack size relative to the blinds will lead to a sort of "breathing" or "pulse" to a tournament. Depending on the structure of the tournament, this can happen several times.
Let's take a look at a recent tournament I played, where I ended up third: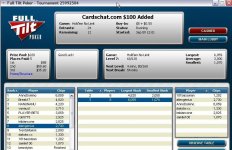 Some things to note here: half the players are gone, we are playing (2) short handed (6/table) tables, with blinds at 60/120 (which will be going up in 4 min.). We have three players who are in "shove" mode, with around 10bb. We are ok, with $t2730 (about 23bb, M = 15), although not in great shape, especially relative to the chip leader (who is at our table, along with ALL three of the short stacks).
In my opinion, this is a spot where we want to pick out spots very carefully. You don't want to be playing a 'LAG' type game here in our position, as there are three players who can effectively play "short stack bully" and come over the top of any raises we make, as well as having to deal with a chip leader who has a good lead over the second place player.
In other words, we have to play fairly tight, card contingent poker here; any "moves" we make can really only be against 'imbiancone', as he is a middle stack who can afford to fold, and who we can also hurt with out stack. You can't really pick on the short stacks, as they are getting into desperation mode, but can still damage our stack due to its size.
The chip leader's play is different. Anno is in a pretty nice spot here, and should be looking to rob imbia and me (the middle stacks), and basically accumulate chips with little risk. He doesn't need to call any of the shoves or "play sheriff" with the short stacks. He can afford to let the blinds go through him numerous times without incurring any damage. His motto should be, "steal, but be stolen from". If the small stacks attack him, fine. He can fold marginal or weak hands, and simply pick up the middle stack's blinds, or resteal our raises. The key is aggression: Anno needs to be the one raising, putting on the pressure, NOT the one calling. He can afford to attack, since raising and folding to a re-raise is possible with his stack size: he wont be too damaged, and his frequent steal attempts should more than compensate for the times he has to do this. Our shorter stack can't take that kind of abuse.
So you can see the difference in strategy at this stage of the tournament given differing stack sizes. We can't really afford to raise, then fold to a (probably common given three opponents in red zone) reraise too many times. But once the chip consolidate, and everyone is back to around an M of 20 or so, then you can reopen your style to a looser, more aggressive mode.
Phil Gordon sort of touched on this idea a bit as well:
"At this final table, where the average stack among the other eight players was so short, my best strategy was to play extremely tight. I decided to play only top-quality starting hands while I waited for the short stacks to gamble with one another. Eventually the stacks would consolidate and we'd be left with five or six players who had decent stacks. At that point, I could get more aggressive and begin stealing from players who could afford to fold."
Since there were no "middle" stacks to attack, he is forced to play very tight/card contingent poker here, in a similar way to our situation above. Of course, he is in a much better spot as chip leader, but the underlying idea is the same: if everyone/most of the players are in desperation mode, you need to adjust your vp$ip and aggression level accordingly.
Last edited by a moderator: