Joined

Feb 5, 2021
Total posts

404
Awards

1
I don't understand it. ICMizer says shove any 2 in this spot.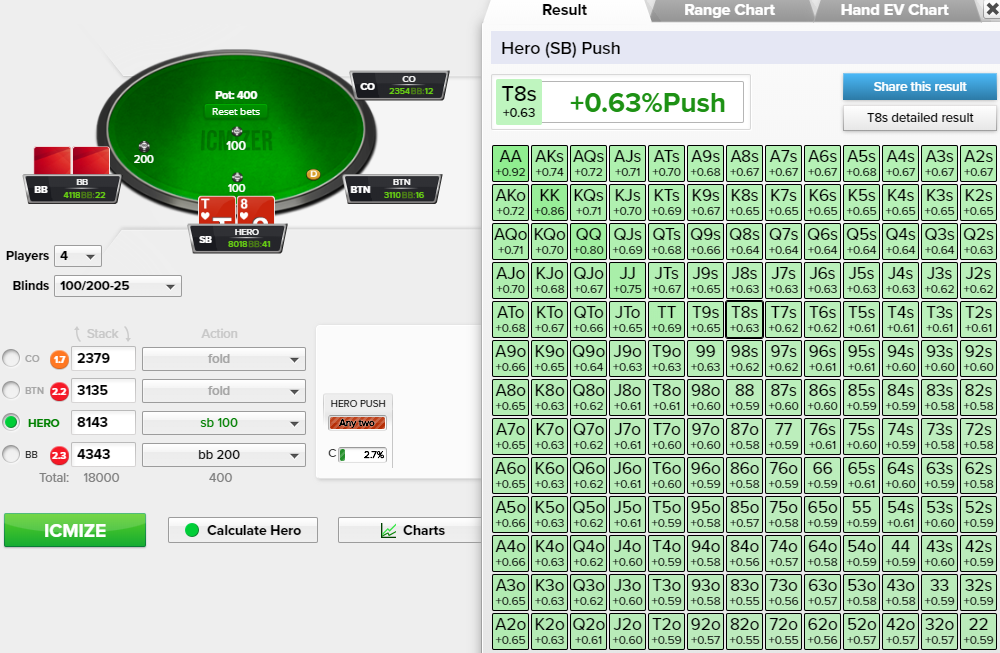 I guess villain intentions might change that. This opponent had been mostly LAG and I expected a call if I shoved here and didn't think I had enough
equity
to call a shove. But looking in Equilab, 8Ts has about 52% against a random hand. Does that sound correct?
Either way, I think I played this wrong. I should have checked my gut shot. And then call if they bet. Then check fold the turn, I think, unless I picked up something more.
Would you have shoved PF?
Hand History driven straight to this forum with DriveHUD
Poker HUD
and Database Software
NL Holdem $1.50+$0.15 (200.00BB)
BB ($4343)
CO ($2379)
BTN ($3135)
HERO ($8143)
Dealt to Hero:
8
♥
T
♥
CO Folds
,
BTN Folds
,
HERO Raises To $425
,
BB Calls $200
Hero SPR on Flop: [4.35 effective]
Flop ($900):
3
♥
7
♦
J
♣
HERO Bets $225
(Rem. Stack: $7493),
BB Calls $225
(Rem. Stack: $3693)
Turn ($1350):
3
♥
7
♦
J
♣
5
♦
HERO Bets $675
(Rem. Stack: $6818),
BB Calls $675
(Rem. Stack: $3018)
River ($2700):
3
♥
7
♦
J
♣
5
♦
5
♥
HERO Bets $675
(Rem. Stack: $6143),
BB Calls $675
(Rem. Stack: $2343)