Joined

Jan 7, 2007
Total posts

1,759
Chips
This was my most enjoyable experience at poker in a while.
I played a live cash table for the first time in a couple weeks at the
casinos
today. Played for about 2 1/2 hours at the same table. There was this kid, about 21 years old I think, barely old enough to play, but very arrogant, annoying, and cocky---but the best part, full of money. And well, he just had this thing about getting into every pot I was playing and trying to push me around. Funny how there are always guys like that, looking to push women around at a poker table, but I don't mind them, because most of them aren't that good players. The things he said to me, some which I won't repeat on here since this is a family board, was a bit well vulgar, but I didn't let it really get to me, all it did was give me information on what type of player he was (dealer just gave him a couple dozen warnings, but I said I didn't mind them because I wanted him to stay at the table so I could set him up).
So I was playing at a $2/$4 NLH table, max $400. Well, anyways, he kept raising big to a lot of pots I was in, trying to be like the generic ass*hole guy and think that since I was a woman he could push me around like that. And well, I just kept letting him think that I was very weak player, and that I would fold as long as he raised big. After about 30 or so minutes of him making a big show about pushing me around at the table, I picked up
KK
, and just smooth called from early position. The guy, of course, raised about
8xBB
since I was in the pot. Everyone folded to me. I just smooth called. Flop came
K72
rainbow. This is when the fun started.
Of course, you guys can predict, he comes out firing putting out about
16xBB
. I just stopped for a minute, and started my acting job. I tried to seem as weak and a pushover as possible. Just looking at my cards all nervous, and biting my lip, like I was so concerned. And finally I just smooth called again.
Turn card come a
3
. Once again he comes out firing with the same bet of
16xBB
. Once again, I started putting on weak act (which I have no idea how he could believe I was weak since I called, but I acted anyways). I was like, "Come on, you can't push me out of every pot. I have a really good draw here" (best part of course, not a single draw out there except backdoor flush draw, but I guess I sold it to him perfectly). So I smooth called again.
River card comes another
3
, suits didn't matter, no flush draw on the board anymore. Then the guy says the best line I've heard all week, "Haha, you missed you're flush, and I hit the best card I possibly could hit. You're owned," and he pushed all his chips in. At this moment, I know he doesn't have pocket 3's, I'm just thinking to myself, should I slowroll the kid and think for a bit. Normally I never would do that, but well, the kids talk was deserving of it, so I thought for like 20 seconds. And then just said, "I think you should look up 'owned' in the dictionary," and called. He started celebrating and flips over
35
suited for
trips
. I show the
full house
, and the kid goes ballistic. Starts cussing and calling me every name he can think of. Won only about
$400
from that pot, but well, let's just say I took another $350ish from him by the end of the night, before he finally left the table. Haven't found a player willing to throw his money like that to me, live for a while, so it was a good night for me.
Then when I got home just about a hour and a half ago, I just signed up for a SnG, while I had to talk with my brother about something on the fone, and didn't want to just idly sit there listening to him. Ended up at the final table, I was low chip stack, but still reasonable with the blinds, coming into the final table. Had to play the most patient, managing game I've played in a while to slowly get a nice stack. Was low stack throughout the tourney, but just kept hanging around, until I eventually won.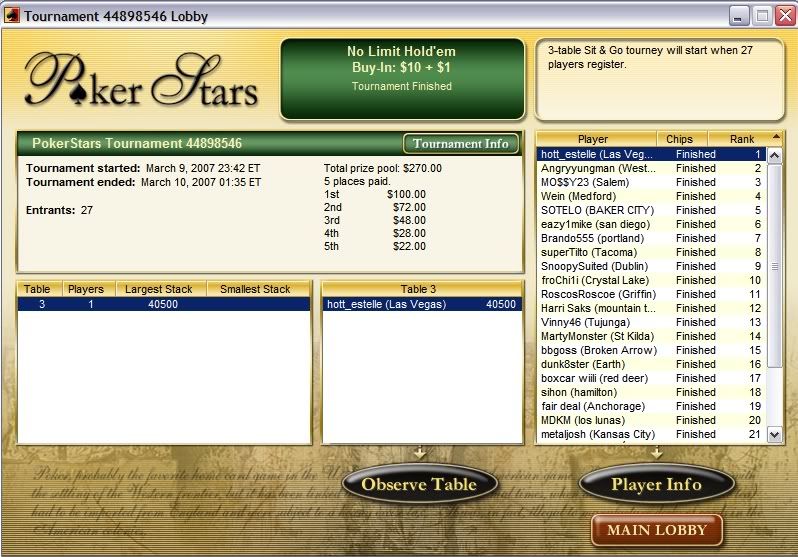 Last edited: