Jack Daniels
Charcoal Mellowed
Joined

Mar 26, 2005
Total posts

13,414
Well, I played in the PS $1 tourney last night for the PPA. Did the best I could. Here are my results. I'll try to do better next time.
Thanks to jQ for calling me chicken and forcing me to register.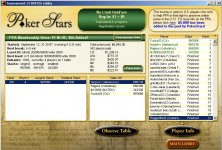 Oh, and just for fun, I thought I would mention that with 10 people left, just before final table, I was the chip leader with about 22% of the chips in play. :thrasher: Just thought I'd share.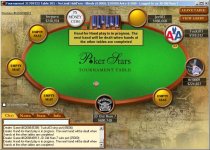 Oh, and I have a couple
hands
I'm going to post in the Bad Beat section, too. I WAS chip leader pre-final table. Then I lost two hands, nearly consecutively, to turn/river suck outs. I could have had a massive chip lead going to the FT, but alas the poker gods didn't allow it.
Oh well. Just posting the bad beats to vent, really.