PsychoVas
What The Duck???
Joined

May 4, 2013
Total posts

1,776
Awards

4
Howdy Chatters!
I missed this month's forum challenge, due to a very frustrating reason:
YouTube suspended my account permanently!
I recently received this e-mail from YouTube: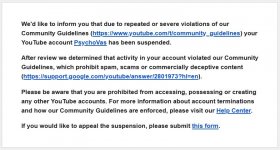 I was shocked as you can imagine and of course appealed via the link provided. In my appeal I clearly stated the truth which is that I used my YouTube account only to comment on poker videos - mainly for the forum tasks - and to upload poker hand videos via the incorporated in PokerTracker4 menu feature. I could not imagine how that was a breach of community rules! I pleaded with them to specify the infraction that lead to the ban.
Their reply was this:
Hello,
We have received your account appeal and will get back to you as soon as possible.
Sincerely,
The YouTube Team
And followed by this:
Hello,
Thank you for your account suspension appeal. We have decided to keep your account suspended based on our Community Guidelines and Terms of Service. Please visit http://www.youtube.com/t/community_guidelines for more information.
Please do not respond to this email. Replies to this email will not be processed. Please refer to our https://support.google.com/youtube for more information.
Sincerely,
The YouTube Team
I tried one more time, in order to at least learn what my mortal sin was and they replied this:
Hello,
We have looked into your request and found that you have recently sent an appeal. Please wait for the result of your current appeal. If it has already been decided, please refer to that outcome. Note: You cannot appeal a second time.
Sincerely,
The YouTube Team
Period. End of story. I am supposed to have violated the guidelines, in a vague fashion with no specific accusation. Still, the verdict is final and I cannot create another account. Thus I cannot even take part in the forum challenge and I do not know what the F*$#@ for!!! Mind you that I only uploaded PT4 hand videos via the PT4 menu. What the bloody hell did I do wrong? Is it a copyright issue? PT4 supports the option itself!!!
Any ideas?