Ambassador Chris Moneymaker Defends ACR Following Software Issues
Chris Moneymaker took it on the chin from the poker community for standing up for Americas Cardroom, the poker site he represents, following some major software issues that forced the cancellation of multiple tournaments. But he believes in the company he represents and went to bat for his new employer.
At the end of 2020, the 2003 WSOP Main Event champ left PokerStars after 17 years. The move was shocking to the poker community, but Moneymaker wanted to represent a poker site he can actually play from the United States, where he resides.
Americas Cardroom was a natural fit for the former accountant, given that the site accepts US players. Plus, he's a strong proponent of cryptocurrency, the main form of deposit and withdrawal used at ACR. In addition, Moneymaker also built a strong relationship with Phil Nagy, the CEO of the Winning Poker Network, ACR's parent company.
But when you're the main face of any poker site, the poker community holds you accountable when things go wrong, whether that's fair or not. On May 20, software issues on Americas Cardroom forced the interruption of all tournaments on the site. Many events were already in action, some even on Day 2.
Players expressed frustration with the US-facing poker site, and when ACR decided to just cancel all Day 2 events instead of rescheduling the tournaments, Moneymaker made the announcement, and was forced to take some heat from dissatisfied customers.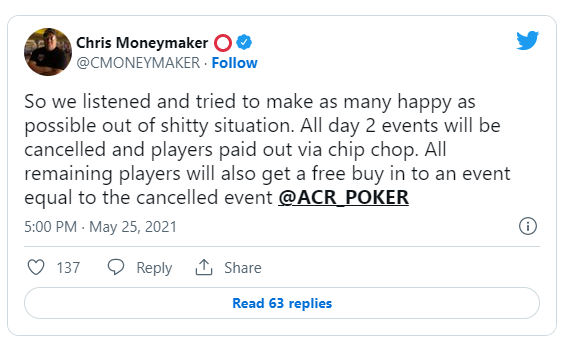 Moneymaker: 'I signed up for this'
On Wednesday, Moneymaker addressed the issues in a series of tweets. He defended the company he represents amid some harsh criticisms from the poker community.
"Well the last few days were interesting. Unfortunately, this will happen again at some point more than likely. The multi flight event format caused an issue and @ACR_POKER will continue to innovate with things like mixed games, multi flight options, ect," Chris Moneymaker began the tweetstorm with.
In a follow-up tweet, he emphasized that ACR's tech team works hard to provide its customers with the best possible gaming experience. "I have zero knowledge of how programming works so I have no idea why these issue happen and hope they are limited. I do know that the entire team @ACR_POKER hates when it happens as much as you do. We are striving to give everyone a great poker experience," he wrote in the second tweet.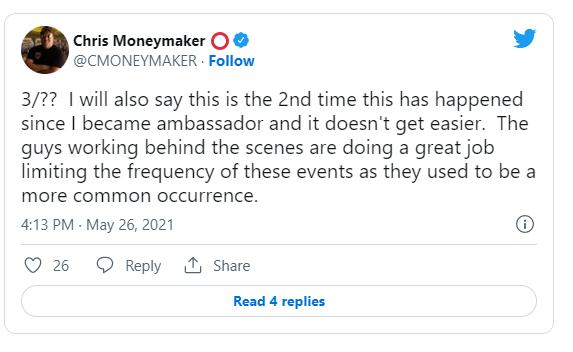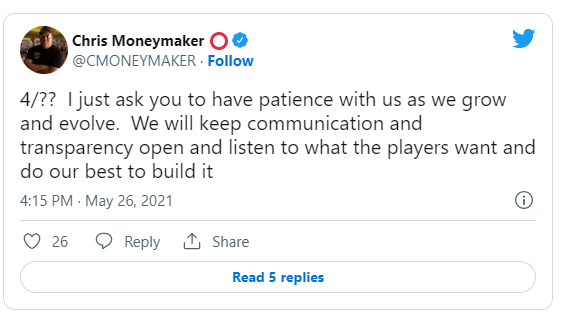 Moneymaker finished up his statement by thanking those who sent him kind words over the past several days. He admitted, " I signed up for this and am happy with my decision but still nice to hear on the tough days."
The former world champ did sign up for taking heat when problems arise at ACR, and as the site's primary ambassador, it's a role that he appears to be handling quite well.