Bill Perkins Takes Heat from Poker Community for 'Over-Hyped' Alleged Cheating Scandal
Bill Perkins teased knowledge of a poker cheating scandal that he claimed would make Postlegate "look like a church service." But it appears he may have over-hyped it, and many poker fans on Twitter aren't too pleased with the tease.
Perkins, one of the wealthiest players in poker, has a squeaky-clean image in the game. He rarely rubs the poker community the wrong way. Most players seem to respect his opinions on poker and life. So, it's certainly not everyday when Poker Twitter is referring to the hedge fund manager as an "attention whore," or bashing him for "exaggerating" the severity of the situation.
But that is exactly what Perkins dealt with on Sunday, a day after hyping up an alleged poker cheating scandal, before delivering partial details of what doesn't appear to be quite as severe as originally promised.
More Details on Poker Cheating Scandal
Late Saturday night, Perkins fired off a tweet that sparked major interest from Poker Twitter. He teased a poker cheating scandal that would supposedly put the alleged Postlegate to shame. But he didn't release details and left everyone hanging overnight.
On Sunday morning, he got a bit more specific, although he still left out some key details.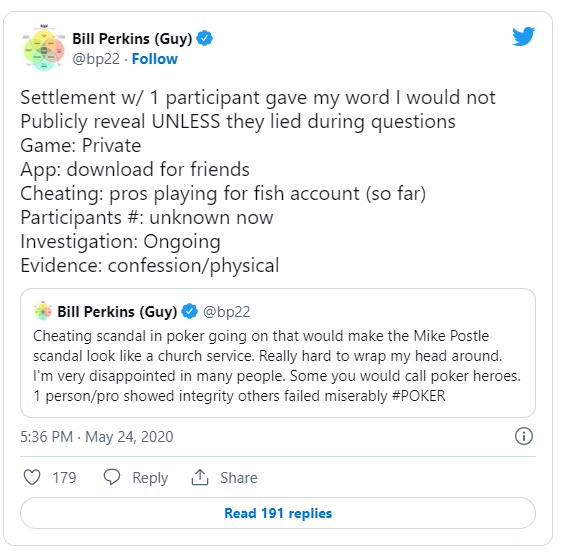 The above post clearly indicates the alleged incident occurred online, likely in a private home game. Private internet poker games have become increasingly popular in the US during the coronavirus pandemic. Without regulation, these games can be a bit risky if the groups you join aren't trustworthy.
Perkins accused unnamed high-profile players of either ghosting or playing under a recreational player's account on a poker app. The only player we know wasn't involved is Jason Koon, as Perkins specifically mentioned that Koon declined to take part in this alleged poker cheating scandal. Beyond that, the individual's name(s) hasn't been released, although the hedge fund manager has stated that he eventually will release the name(s).
Blown Out of Proportion?
Mike Postle is facing a $10 million lawsuit for allegedly cheating during Stones Live streams from 2018 to 2019. He is accused of using some sort of device to decipher his opponent's hole cards. If the accusations are true and Postle really did cheat players out of hundreds of thousands of dollars, it will go down as one of the biggest cheating scandals in poker history.
Perkins, however, teased Twitter with a poker cheating scandal that, as he wrote, would make Postlegate "look like a church service." After the high-stakes amateur provided a few more details on Sunday, Poker Twitter took shots at him for, as many claimed, overselling.
"Not to take light the significance of what happened, but if you say "makes the Postle cheating look like church service" you really gotta have more than someone playing on another account online," former online poker pro Doug Polk wrote.
David Williams, the WSOP Main Event runner-up in 2004, was highly critical of Perkins for over-hyping. He cracked a sarcastic joke at the Thirst Lounge founder's direction.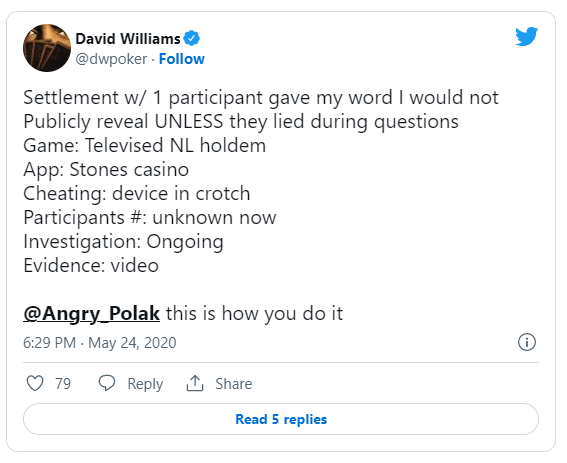 Multiple Twitter users accused Perkins of complaining only because he lost in the games. But Perkins responded, stating that he actually won in the games and that "integrity matters irrespective of the results."
Twitter user @carranzapz claimed Perkins had a "need for attention." When asked by one poker player (@FomoFever) how this is worse than Postlegate, the high-stakes player responded, "monetary." Postle's alleged incident involved low-stakes poker games. Whereas, Perkins often plays for hundreds of thousands of dollars in any single session.
Still, most on Twitter argued that the stakes don't matter, and that ghosting a recreational player isn't worse than allegedly gaining access to the hole cards of opponents.