Bill Perkins to Challenge Phil Galfond in Heads-Up PLO
Phil Galfond revealed on Twitter that his first heads-up poker challenger will be Bill Perkins and his "Thirst Lounge" live-stream team. The competitors will face off in a high-stakes contest that could force one side to pay up to $1.2 million.
Galfond recently posed the challenge to anyone in the poker community. The competition – details yet to be finalized – will be similar to the unfinished "Durrrr Challenge" between Tom Dwan and Dan "Jungleman" Cates. Dwan quit playing that infamous match before its conclusion, perhaps due to losing big. He was down approximately $800,000 when play stopped.
"Jungleman" has said he remains hopeful the match will eventually continue, but it doesn't appear that will happen anytime soon.
Battling Bill Perkins
Perkins will be the first high-stakes player to take on the "Phil Galfond Challenge." Galfond shared some details about the upcoming heads-up match, although specifics are still being finalized.
The players will compete through 50,000 hands of pot-limit Omaha on Galfond's poker site, Run it Once. If either player is down $400,000 at any point, the match will end and the loser must then pay a side bet to the winning player.
Should Perkins and his "Thirst Lounge" streamers win the match, Galfond will pay his opponent another $800,000. If Galfond wins, Perkins is on the hook for another $200,000.
The maximum loss for Galfond is $1,200,000, whereas Perkins could lose up to $600,000. Both can certainly afford to take such a massive hit, although Galfond's wife and fellow poker player, Farrah Galfond, might disagree.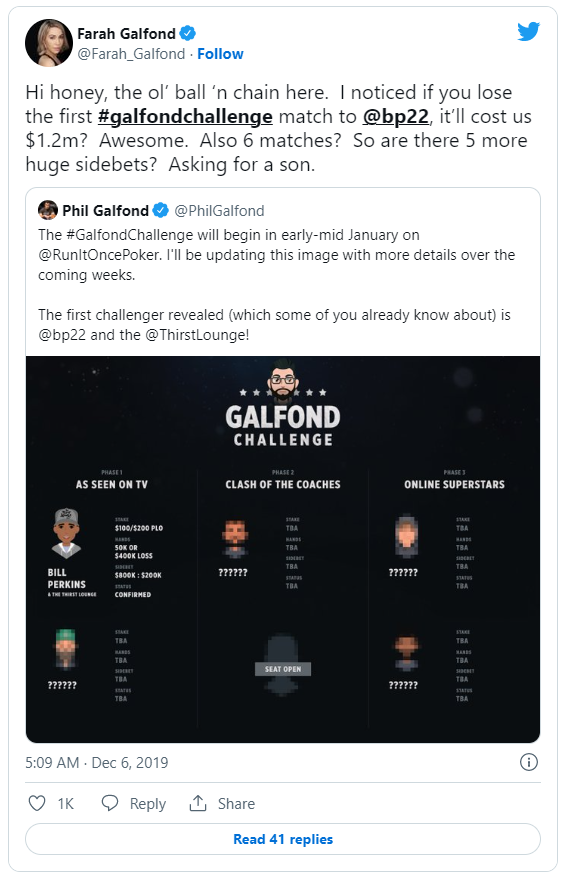 Perkins is the first to accept the challenge, but he likely won't be the last. Galfond is seeking additional opponents. The matches, including the battle against Perkins, will be live-streamed on Twitch. Galfond wrote on Twitter that he's "still finalizing details" with other potential challengers. He didn't hint at who those player might be, but we anticipate they won't be some random Joes off the street.