World's Top Tournament Poker Player Bryn Kenney Accused of Running a Stable of Cheats
Professional poker player and two-time WSOP bracelet winner Martin Zamani claims he was part of an online poker cheating ring run by Bryn Kenney, the world's biggest tournament winner and a high-stakes poker regular. 
Zamani came forward with his allegations this week after cheating accusations against poker superstar Ali Imsirovic resurfaced. The accusations against Kenney are vast and shocking, if not weird, with Zamani telling a narrative of Kenney attempting to control his players with the help of a Las Vegas shaman, a psychic, a poison frog, and magic mushrooms. 
On Thursday, Zamani appeared on Doug Polk's podcast for an interview that went almost an hour-and-a-half. Vaping marijuana the whole time, Zamani claimed that Kenney was the ring-leader of a well-oiled cheating team, and that he tried to control his players in ways that he described as cult-like.
Before sitting with Polk, Zamani let his confessions fly on Twitter.
While Zamani said he has proof in the form of saved conversations, little was presented either through his Twitter account or during the podcast. He didn't offer any timeframe when the cheating allegedly took place. 
Do what's best for the team?
Zamani claims he briefly worked for Kenney as part of a stable of players who would collude, share accounts, utilize real-time assistance (RTA) software, and chip dump on GGPoker. 
He also claims that Kenney may have been working with GGPoker to prevent overlays, and would receive rake-back from the site of around $2 million a week.
Zamani, who played under the screen name "FuTimReilly," says that in some $5K and $10K tournaments facing overlays, Kenney would order his horses to enter and play in volatile ways — shoving with any two cards, calling slim draws, etc. — in order to bust people and force rebuys. 
CardsChat reached out to GGPoker, but didn't hear back in time for publication and Kenney could not be reached for comment. Polk said he was contacted by Kenney's lawyers right before going live, warning him not to defame their client.
On Polk's podcast, Zamani named Mark Herm, Sergi Rexach, and David Miscikowski as members of Kenney's team, but said there are more. CardsChat was unable to independently verify any of these players' participation. Zamani said Rexach, who was banned from GGPoker for using RTAs, was Kenney's "main horse."
A friend in the bullseye
Zamani also accused Kenney of targeting a close friend, Lauren Roberts, who Zamani said treated Kenney like "a son."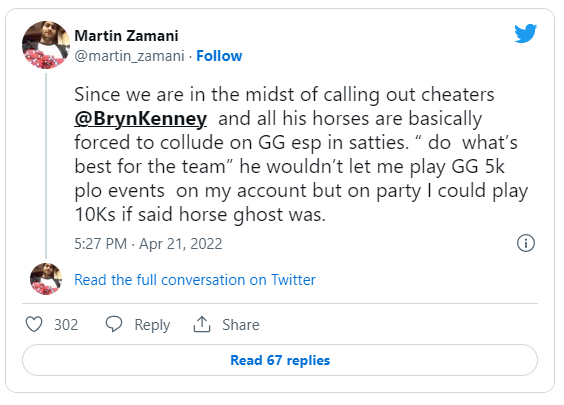 Roberts played on GGPoker as "He22." While maintaining a friendship with Roberts, Kenney ordered his horses to target her.  
"Anyone who was around this situation and who knows Lauren and Bryn knows how insanely bad he took advantage of her and poached her," Zamani said. "He was telling her to play the games and demanding us to always play the games because she was a big fish."
Kenney allegedly kept Roberts close as he worked to fleece her.
"He was always throwing big parties at her house and pretending to be buddy-buddy," Zamani said. "Insane. And he would play her account sometimes, unbeknownst to all of us."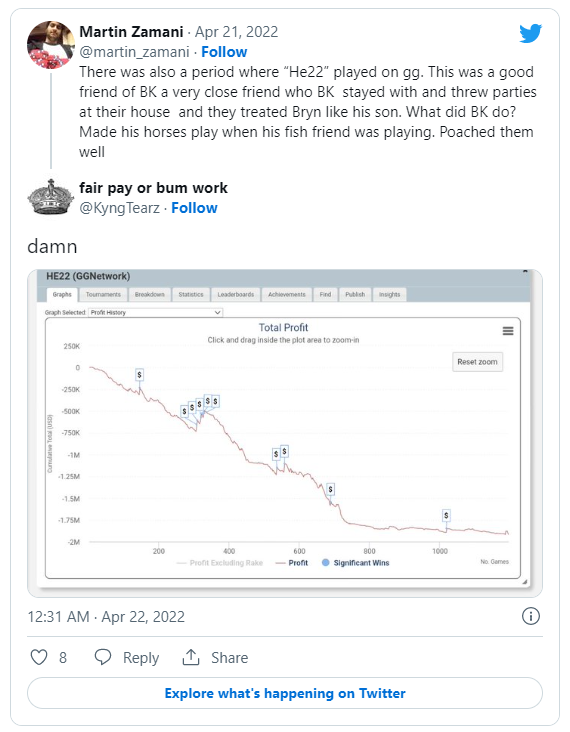 How did Zamani find out about that? He said Roberts told him. 
"If what you're saying is true, that seems like a fairly sad story," Polk said.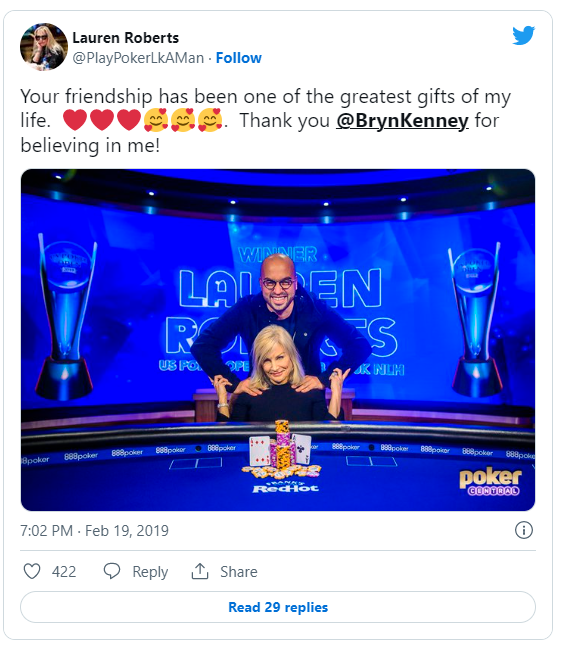 A poison frog and a Las Vegas shaman
Zamani shared some details of incidents away from the tables that Polk called "pretty fucking weird" that pertained to how Kenney tried to control his players.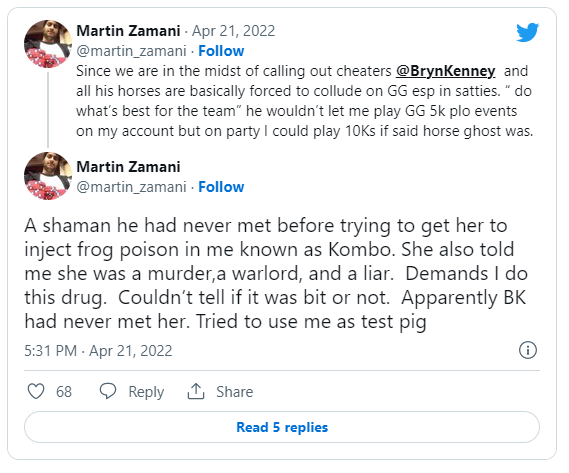 After being stuck $40K, Zamani said Kenney agreed to stake him and build him up — with one major catch.
"He's like 'First things first, you got to get your energy right. You got to go see the shaman,'" Zamani said.
Zamani was sent to a woman's house in Las Vegas where she took him into her garage, which doubled as a ritual room. 
"It's very sketchy. I don't know how to explain it. I can't tell if this is a test where I'm supposed to be texting Bryn and telling him that she's crazy. Like he's trying to find out where my loyalty is, or whatever. Or, like, this lady is insane, and Bryn is just as insane. I have no idea what's going on at this point," he said.
He said he barely knew Kenney at the time.
The shaman, Zamini said, told him he had to go through a cleansing ritual called the Kambo during which she would use burning incense on his arm until the skin bubbled. Then, he said, she would cut his skin open and smear poison from a giant monkey frog into the wound. 
She wanted Zamani to do three sessions. He declined to do one. He also declined to take drops of acid into his eyes, so she called him "a big chicken."
Kenney told him he had to do a mushroom trip with the shaman, so Zamani ate about nine grams of the psychedelic drug with her.
Why did he do a large amount of 'shrooms with someone who wanted to drip acid into his eyes, burn him with incense, and poison him with a giant monkey frog? 
"Dude, I needed a stake. I was bust-o, I owed people money. I was just trying to work. What was I going to do? I told my friends and my family: 'This guy is trying to be a cult leader and wants to be warlord Bryn.' But I'm bust-o and he's willing to put me in $5Ks, $10K, $25Ks, and there's some coaching involved, so it's probably fine."
Zamani says Kenney also took members of his team to Hawaii for sessions with a shaman, and demanded that his players follow a strict vegan diet. Zamani said other horses would report to Kenney if he slipped and ate a burger.
In addition to meeting with shaman, Zamani said that Kenney "demanded" him to do a session with a so-called psychic, Jeffery Wands, who charges $200 for a half-hour reading. Zamani called him an "idiot."
Zamani treated the session skeptically and 30 minutes later, said he got a text from Kenney. "Hey, the psychic told me I should stay away from you and your bad energy. So, I'll have to think about our relationship,'" Zamani said the text read.
A day later, Zamani said he received another text saying "I believe there's good in you. I'm going to give you a chance."
It's a good thing for poker fans Kenney didn't listen to the psychic. In the meantime, the whole confession seems to have lifted an enormous weight off of Zamani's shoulders.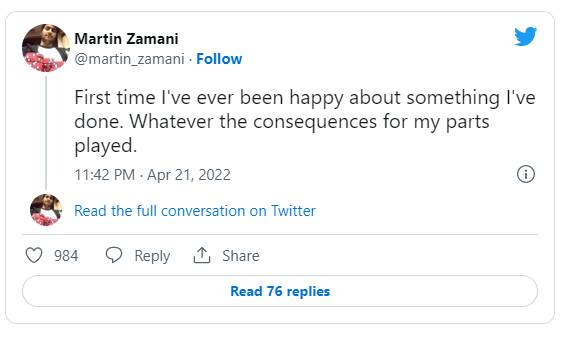 This story is developing.