It is impossible not to feel like live poker in America is on the right track at JACK Casino in Cleveland as its staff showed just how warm, welcoming, and straight-up fun a room can be during last weekend's Grand Reopening celebration.
The three-day poker party gave a glimpse of how a poker room should be run and what it looks like when it's captained by an ambitious and poker-loving staff and backed by upper management who understand the value a great poker room brings to a casino.
JACK has had a poker room since the casino opened as a Horseshoe in 2012, but it was hidden on the third floor of the former massive and historic Higbee's Department Store in downtown Cleveland. 
"Putting poker on the third floor was like putting Baby in the corner," said Tony Carolo, Vice President of Table Games at JACK. 
And, as anyone knows who's seen the movie "Dirty Dancing," nobody puts Baby in the corner. 
Higbee's, by the way, is a Cleveland landmark and was featured in the Holiday classic "A Christmas Story." It's where Santa Claus tells Ralphie he'll shoot his eye out before kicking him (somewhat gently, but yes, in the face) down the sliding board into a cloud of cotton.
The space on the third floor is dark, interrupted by large square columns, and is so isolated, regular table game players could go years without knowing it existed.   
"The worst part of the room being upstairs is there was no walk-through traffic, so people coming in here to play poker knew where to go. But someone traveling in here wanting to sit down, nine times out of 10, they didn't even know we had a poker room," said Mandy Felice, Table Games Shift Manager. "The poker community in this area is so large that we owed it to give them space where everybody else was."
It was time to make a change. After months of planning, the room was moved into the new spot on the second floor in February, right next to its pits. 
The sponge
The move gave Poker Room Manager Chris Lose the chance to rebrand and build the kind of room he always envisioned since moving back home to Cleveland after a seven-year stint in Las Vegas as a dealer and eventual shift supervisor in ARIA's poker room.
Lose actually was hired as a poker supervisor — with no experience — when Caesars opened Horseshoe Cleveland in 2012. It's now owned locally by JACK Entertainment LLC. 
Lose saw an opportunity 2016 when the ARIA offered him a dealer job, but it came with several enormous caveats. He would have to quit his full-time supervisor position to move his young family from Ohio to the desert for a part-time dealer job that wasn't promised after the summer slate of tourneys were over. 
Plus, he never dealt. 
More like a poker internship, Lose took the gamble, figuring he could always come back. He stayed seven years, eventually becoming a shift supervisor at ARIA.
It was like going to school and earning a Master's Degree in "Poker Room Manager." 
"I made myself involved. I kept being around at the right times, asking the right questions, and just working, working, working," Lose said.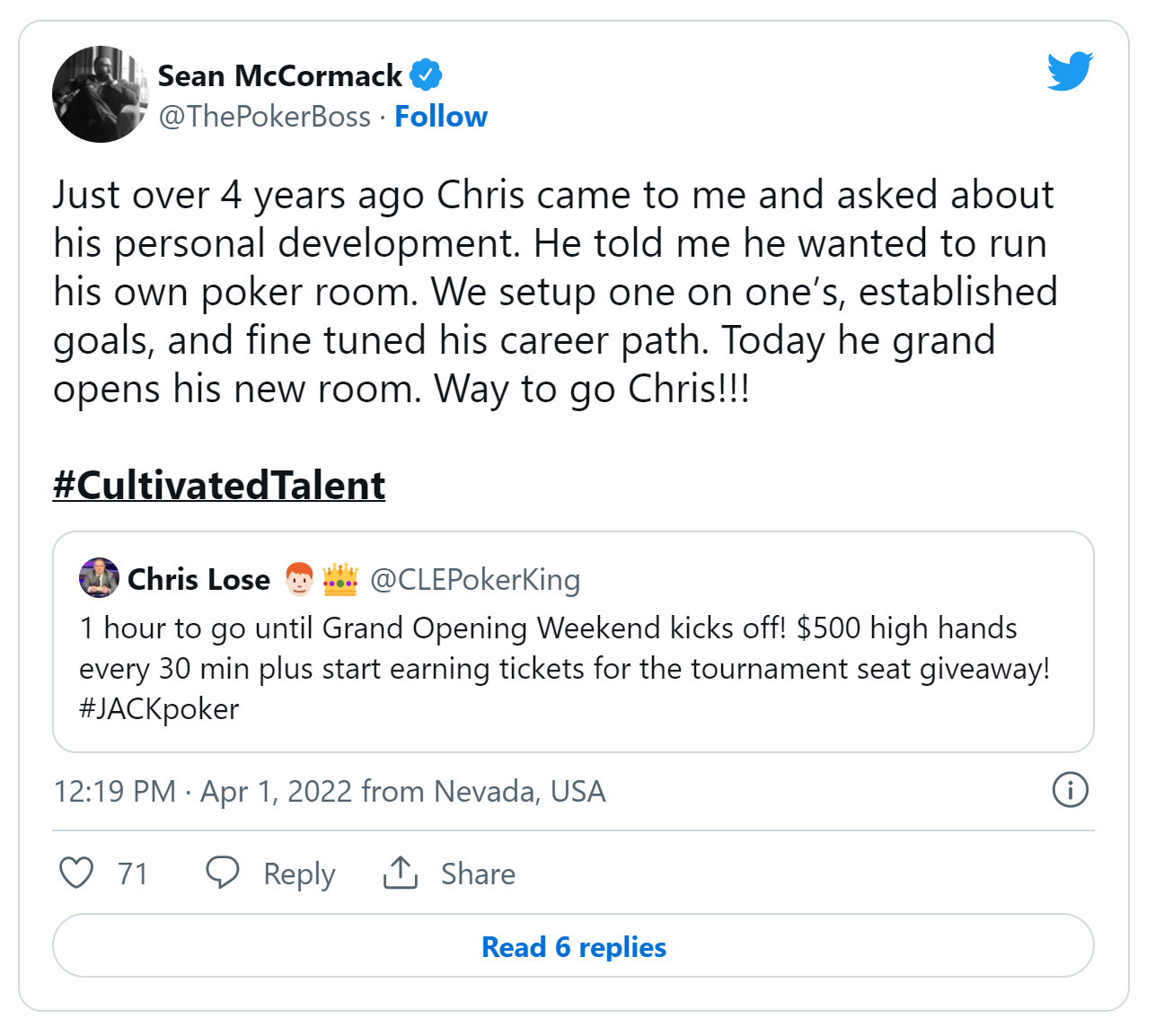 He earned the nickname "the sponge" genuinely, taking advantage of every situation he found — and put — himself in. Lose said he was able to learn from some of the biggest names in the poker industry, including ARIA Poker Room Manager Sean McCormack, WPT tournament director Matt Savage and PokerGo producer and poker industry guru Mori Eskandani. 
"You just learn from them. You say 'Hey, do you have a moment to chat?' and they're like 'absolutely' and they'll spend 10, 20 minutes and just talk with you and let you pick their brains," Lose said. "I took advantage of that."
Family circumstances brought him back to Ohio last year. JACK rehired him and quickly made him the poker room manager. He inherited a room with some problems, including an unhealthy player situation, he said. 
Players with large bankrolls were cannibalizing the $1/3 games by taking advantage of a rule that allowed the button to straddle five-times the blind. 
He immediately got rid of it "so we could go back to having a healthy flow of poker in the room," he said. 
Supervisor staffing was also an issue, especially since one of his goals was to bring daily tournaments back. Management allowed him to go from four to 10. 
Lose acknowledges how lucky he is to be in a situation where owners and upper management want to see the poker room not only do well financially, but also function as a branding opportunity for the casino. 
"They're buying into everything I'm putting out there and that's huge," Lose said. "Because we're creating a brand and an identity that we can market not only in Cleveland but across the country."
A poker party
It's rare when a casino backs their poker room with such vigor and enthusiasm like JACK did last weekend.
The casino gave away $75K in high-hand bonuses and tournament entries, and even brought "Poker After Dark" host and poker personality Veronica Brill in to provide the room with a bit of poker celebrity sparkle and snark.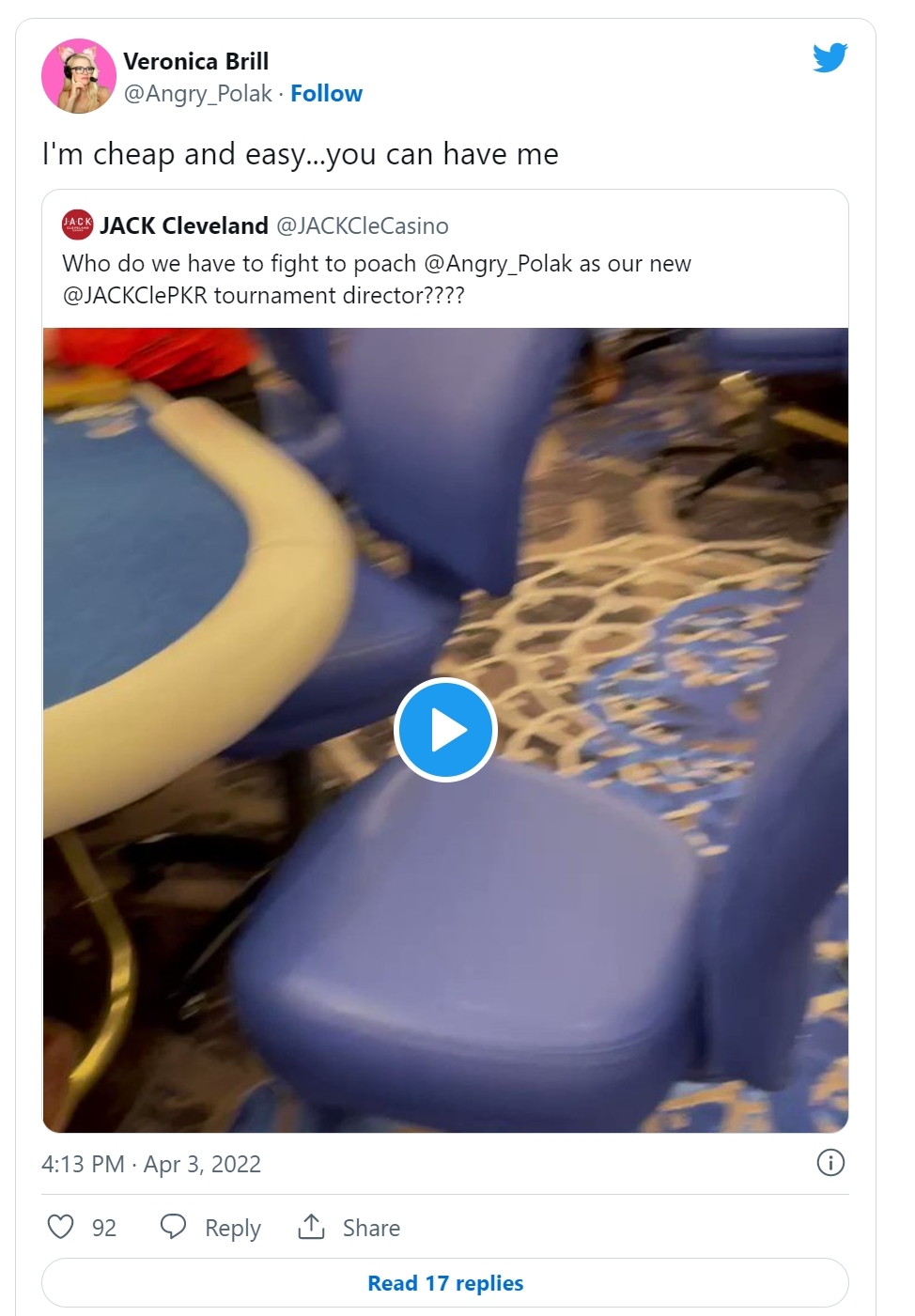 JACK also put a handful of poker media and industry members up at the Ritz-Carlton, fed them steak and seafood at Mortons, and held a freeroll with three $600 buy-ins to the Sunday Mystery Bounty tourney on the line. 
Congrats goes to Haley Hochstetler, RunGood VP of Media and Marketing and head of the WSOP photo team, Brian Bly of STACKED, and Sam Carioti, WPT's Senior Director of Global Tour Management, for winning the entries. 
I joined Tana Karn, president of RunGood, as unfortunate losers.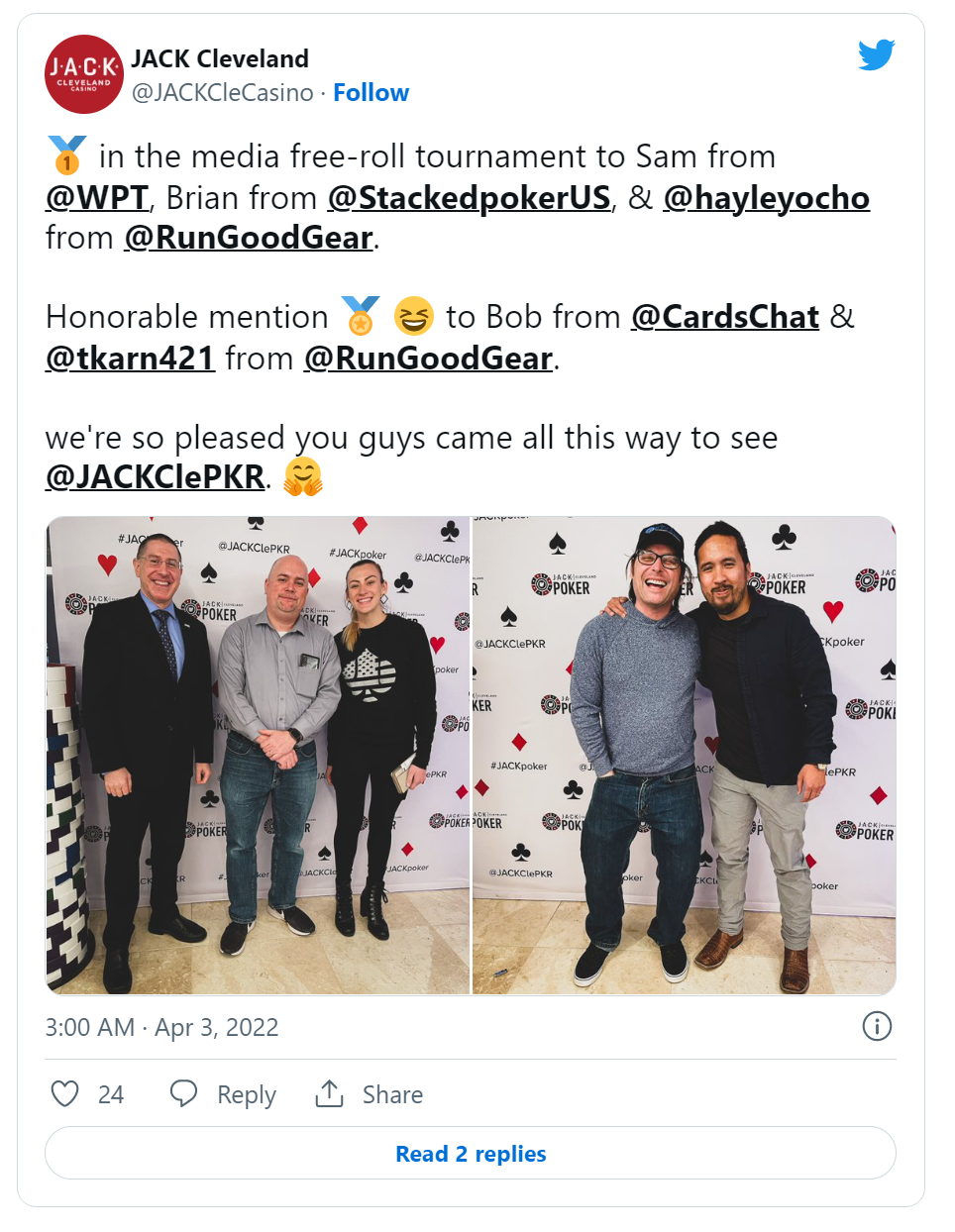 So there's your disclaimer: They housed and fed me and bent-over backwards to impress all of us.
And I'm here to say they did. 
Pretty blue room
The 26-table table room has blue-felt tables, clean chips, comfy chairs that are just getting broken in, and a small lounge to sit in while watching your name slowly float to the top of the waiting lists — which went over 100 deep at times during the extremely busy weekend.
The 6,400 square-foot poker room was filled to the brim with players trying to get a piece of the $500 half-hour high-hand bonuses and tournament entries into Sunday's $600 buy-in Mystery Bounty event. 
In fact, the whole 90,000 square-foot casino was packed in a way I haven't seen since COVID squashed everything flat. On Saturday, it seemed all of Cuyahoga County came out to gamble. Walking through the casino became a slow shuffle and every table game and slot machine was packed with maskless patrons.
A security guard blamed the poker room's Grand Reopening for the huge crowds, but he said this as an afterthought while eyeballing a drunk woman whose breasts happened to fall out of her top while riding an escalator.
The room is missing a dedicated cash cage, forcing players to cash their chips in at the main cage in the casino. Carolo said it's the only "knock" against the room, and a cage will most likely be added. 
Also, players can only buy chips at the tables using 100-dollar bills. If they have a pocketful of $50s or $20s, they have to head to the main cage queue to exchange.
The games spread at JACK's were a healthy dose of no-limit hold'em and pot-limit Omaha ranging from $1/3 to $5/10, and Felice said every weekend is jammed-pack.
The dealers were friendly, competent, and maybe a bit overworked. Like most card rooms around the country, JACK is short-staffed and hiring. 
It's still not stopping them from going full-throttle this spring.
Tournaments are held weekdays: Mondays and Wednesday, $150 buy-in, 11 a.m. and 7 p.m.; Tuesdays, $200 buy-in 6 p.m.; Thursdays, $300 buy-in 3 p.m.; Fridays, $250 buy-in noon. 
A $500 buy-in takes place Sunday, April 24. 
And the first week of May is all about the Mid-Stakes Poker Tour's $1,100 buy-in $500K guaranteed tourney. The first of the three starting flights begins Thursday, May 5. Satellites with buy-ins starting as low as $70 start Monday, May 2.  
The entire schedule is found here.
"We had an MSPT (three years ago), but this one looks like it's probably going be a monster," Carolo said. 
Well, they're off to a great start.