BentleyBoy
Legend
Loyaler
Joined

Feb 28, 2015
Total posts

2,258
Awards

8
SO! I was just on Facebook and saw this video on a CardsChat post which has generated quite some comment and I got to wondering how you guys in the forum would play this hand.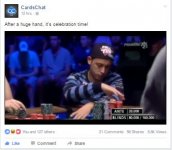 https://www.facebook.com/CardsChat/videos/1110446475684526/
If you dont have Facebook, or cant open this video....here's how it went.
CANDIO ($13.225,000 chips in 6th place) 5s7s raises to $385,000
CHEONG ($26 million chip and chip leader) AcAs raises to $1,125,000
CANDIO calls $740,000.
The pot is now $2,630,000,
Its 20% v 80%
The Flop comes with 5c, 6h, 6c.
Its 13% v 87%
CANDIO checks
CHEONG bets $1,550,000
The pot is now $4,180,000
CANDIO raises $4.4 million.
CHEONG shoves ALL IN
CANDIO calls ALL IN
The pot is now $26,830,000
The TURN comes 8s.
Its 23% v 77%
The RIVER comes...yup you guessed it..... 4c.
Have a look at CANDIO's reaction....hysteria!
How would you have played this hand?