Joined

Dec 22, 2019
Total posts

288
Chips
Game

Hold'em
Game Format

No Limit
Table Format

STT
Buy-in

20
Game Options

Turbo
Currency

$
This is the about the second hand of the tournament and I do not know the villain. This is a 6-max Turbo tourney, single table, $20.
I open on the button with K 10o and villain on the small blind calls as does the big blind.
Flop comes 7s 2h Ks and villain makes a pot sized bet and big blind folds.
This does not seem like a big decision, but that is big bet. Villain could routinely lead with pot-sized bets, or perhaps he has a big hand, or perhaps
he is semi-
bluffing
. If I call the pot sized bet and don't improve, then what do I do on the turn when he fires out a bet somewhere between 225 and 450?
Could he have called with K2 or K7, not that likely but who knows. Does he have a set? Or does he likely have something like KJ or KQ? If he's
just a maniac then I'm making decisions for a significant portion of my stack.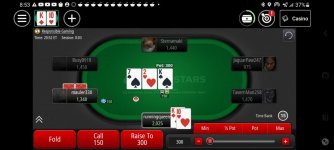 I folded. Turns out he was a crazy maniac and busted out shortly after, but not before doubling up and knocking out
someone else on one of the craziest beats I've seen.
pokerstars
, $18.50 + $1.50 -
Hold'em No Limit
- 10/20 - 6 players
Convert your hand history into forum code, plain text or relive your hand and create animated replays
Sternamaki (UTG): 1,440 (72 bb)
JaguarPaw247 (MP): 975 (49 bb)
TavernMan258 (CO): 1,470 (74 bb)
runningqueens (BU): 2,075 (104 bb)
mauler330 (SB): 1,540 (77 bb)
BusyB919 (BB): 1,500 (75 bb)
Pre-Flop:
(30) Hero (runningqueens) is BTN with K
♦
T
♥
3 players fold
,
runningqueens (BU) raises to 50
, mauler330 (SB) calls 40, BusyB919 (BB) calls 30
Flop:
(150) 7
♠
2
♥
K
♠
(3 players)
mauler330 (SB) bets 150
,
BusyB919 (BB) folds
,
runningqueens (BU) folds
Total pot:
150
mauler330 (SB) wins 150