Joined

May 8, 2017
Total posts

693
Awards

3
Chips
Game

Hold'em
Game Format

No Limit
Table Format

MTT
Buy-in

150
Currency

$
Level 3 of the tournament. MP+1 stats after 31
hands
: VPIP 23, PFR 16, Limp 0, Call raise pre-flop 11, 3-bet 12 and Fold to flop C-bet 100
When calling I put him on this range: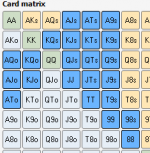 Flop:
I decided to C-bet, pretty much standard and also if he calls/raise I believe that he connected with the board. He raised and I don't think that I can fold, but now I believe that he has Qx, 10x, and also 2 clubs.
Turn:
Here I decided to just check and let him bet, since I did not want to play a very big pot. And also a lot of draws got there.
River:
Here I think I made a mistake by betting this big. I think that 900 would have been enough and also If he raised me I would have folded.
How would you guys play this hand?
GGPoker,
Hold'em No Limit
- 40/80 (10 ante) - 8 players
UTG: 8,827 (110 bb)
UTG+1: 10,156 (127 bb)
MP (Hero): 8,479 (106 bb)
MP+1: 11,719 (146 bb)
CO: 10,072 (126 bb)
BU: 11,602 (145 bb)
SB: 9,673 (121 bb)
BB: 9,492 (119 bb)
Pre-Flop:
(200) Hero is MP with A
♠
Q
♠
2 players fold
,
Hero raises to 200
, MP+1 calls 200,
4 players fold
Flop:
(600) 6
♥
Q
♣
T
♣
(2 players)
Hero bets 306
,
MP+1 raises to 1,152
,
Hero calls 846

Turn:
(2,904) 8
♣
(2 players)
Hero checks
, MP+1 checks
River:
(2,904) 2
♥
(2 players)
Hero bets 1,801
, MP+1 calls 1,801