Debi
Forum Admin
Administrator
Joined

Oct 13, 2006
Total posts

74,103
Awards

20
Chips
Here is your chance to compete with our pros in a
wsop
event in Las Vegas!
CardsChat will be having it's 10th WSOP team event in June. Members will have the opportunity to outlast bracelet winner Ryan Laplante, poker pro Chris Fox Wallace and CardsChat Ambassadors Ashley Sleeth, Matt Vaugan and Dara O'Kearney in the WSOP Colossus event. (All are not confirmed but most will likely play). You can get tips from them here:
Ashley Sleeth (Vegas MTT pro)- Ask Me Anything About Playing Live Poker
Matt Vaughan (Poker Vlogger) - Ask Me Anything - Including Hand Analysis
(Matt will even analyze
hands
for you!)
Dara O'Kearney (Satellite Specialist) - Ask Me Anything about satellites/knockouts
Chris 'Fox' Wallace (Poker Pro, Coach and Author) - Ask Me Anything!
The Colossus tournament starts on Fri, June 24th and the final table will play out on Mon, June 27th. The buy-in is $400 and there are 2 starting flights. It is a re-entry event that will run for 4 days. All events begin at 10am.
Flight 51A - 10am Friday, June 24th
Flight 51B - 10am Saturday, June 25th
You can find the details on the event here:
WSOP 2022 Tournament Schedule
The event will be a last longer challenge and the team will consist of 12-25 members. We are taking names now for those who are interested and CardsChat members are welcome to join in! All CardsChat members with 30+ posts will have first priority. We may accept a few others depending on the size of the team.
As we add members they will need to post in this thread to introduce themselves and give us a little bit of background on their poker experience and history. Link your Twitter account please.
CardsChat will pay $200 of each team member's $400 entry into the event. (You can re-enter once per flight but we only pay the $200 for your 1st entry). You are responsible for your own transportation and expenses to get to the event.
The team member who lasts the longest will get $500!
-In the unlikely event that no one makes Day 2, we will determine the winner of the last longer by highest cash earned in the tournament. You can start in either flight - however it is preferable that you start in Flight A on Friday so we can all be there on the same day. You must meet ALL requirements before getting paid. Please be considerate of the fact that I am also playing and cannot chase you down to fulfill the requirements - including posting in this thread, so you could lose your spot if you don't take care of them in a timely manner.
Team members will be required to:
Post their introduction to the team in this thread with full name and flight expected to play along with a link to their Twitter account.
Participate in this rail thread. (or post their tournament updates in Twitter).
Wear a CardsChat hoodie, sweatshirt or t-shirt and use a CardsChat card protector throughout the entire event. (They will be provided by CardsChat unless you have already been given one in a previous event. (They must have the logo on the back). Baseball caps and t-shirts will be provided if they are going to be worn. Hoodies may be placed on the back of your chair - however if you are being televised or streamed either the hoodie, a CC tshirt or a CC cap must be visible.
Follow us in Twitter and tweet a picture of yourself wearing your CC gear and mention/tag

@cardschat

.
Tweet a picture of your chip stack or your cards with your card protector and mention/tag

@cardschat

.
All of the above must be done before you receive your $200 - plus you need to already be registered for the event. You will not be eligible for the last longer prize if you do not wear CC gear and use your card protector during the entire event.
Subscribe to our Twitter Team List here: (will be added later)
LET"S TAKE THIS DOWN!!!!
CardsChat WSOP Team 2022 - Pros and Ambassadors are bolded
Debi O'Neill (Debi / @ DebiONeillCC) - out
George Mulry (natsgrampy/) - out
Bruce Williams(shamanalix/

@shamanalix

) out
Chris Wallace (ChrisFoxWallace/@foxpokerfox) out
Amanda A (Amanda A/@amandaanne) out
Joe Mussat (Joe Showdown/

@JoeShowdown

) out
Ashley Sleeth (@_AshleySleeth_) Flight A - cashed Day 1 out
Dara O'Kearney - out?
Greg Brewer (gabpoker/

@gabpoker

) (out)
Kristin Ting (Tingaling/@Queenofsets) - Flight A and B if needed
Kathleen Twomey (kltwomey/@pokergrrrl) - Flight A (out)
Donna Scruggs (belladonna05/@belladonna005) - out
Allen Kessler (Allen Kessler) out
Matt Vaughan - Flight B out
Ryan Laplante
Ruth Hall (Halltxholdem)
Joao Cabral (Johnny Aces / @JohnnyAssays) out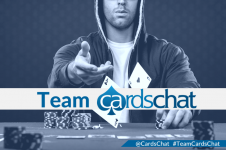 Last edited by a moderator: