Joined

Feb 14, 2019
Total posts

216
Are there any players beating $10NL Blitz on ACR and willing to share their stats? Specifically, how do you play the button?
I've been told that the BUTTON should be your most profitable position, naturally, because you always have position.
Well, somehow it is my worst position. I must be butchering it so bad.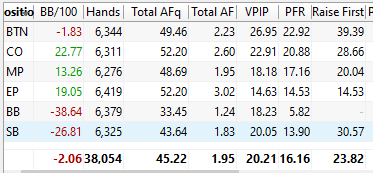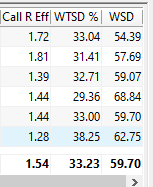 I'm even playing my SB and BB somewhat optimally, but somehow I **** up the BTN so bad.
NOTE: my BTN raise sizing is virtually 100% 2.5x open, whether it's AA or 45s. I used to do 2.0x open, but that got called too often. 2.5x seems to get the correct folds. Maybe I should try 2.2x for a stretch, so I can continue to raise wide?
From the stats, it looks like I can just tighten things up a bit closer to my CO range and it should improve.
Does anyone else have problems with the BTN?