Joined

Jan 15, 2017
Total posts

19
I'm just gonna put this out there!..
I'm a 1-2 cash game player and have recently
accumulated a 4k bank roll to play at this level.
I'm a tight agreesive player who doesn't see the gamble in poker! I get my money in good most of the time.
I'm old school and don't subscribe to the optimal game theory aspects of poker!
I play on, ...table selection, seat selection, .. and basically playing on a full ring table where 5 out of the 8 other players will be a worse player then I, or at least looser!..
I've
poker books
coming out of my ears and have years of experience but never really fully committed to the game! The game has changed since I started to learn but I know over a longer period of time my way will run good! It's steal small pots, win big pots poker! Like I said (old school).....
Realistically how many 8 hour sessions will I need to put in before I see a true reflection of my game!?
Like I said, I've never commited to poker properly before now because I didn't have the bank roll..
Advice!? [emoji848]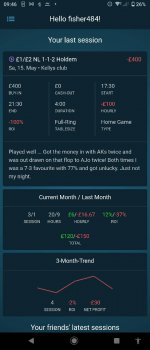 Last edited: